Design Team
Lighting Design

ZACK JACOBS has designed over 500 shows across the country. He has been the resident lighting designer at the Cultural Arts Center of Rockland County, SUNY Ulster and The Woodstock Playhouse. He is the Technical Director/Lighting Designer for The Ulster Ballet (for whom he was one of the originators of their acclaimed production of "A Christmas Carol", now in its 19th year at the Ulster Performing Arts Center in Kingston, NY.) and The Vanaver Caravan among others. He has taught lighting at SUNY New Paltz, and is currently on the faculty of the New Visions program at Ulster BOCES. This is his 11th season at the Fringe and is glad to be back. His regular "9 to 5" is at the Bardavon 1869 Opera House (the oldest continuously operating theater in New York, and the 13th oldest in the country) as Stage Manager/Assistant Technical Director.

---
Set Design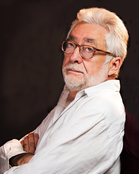 BOB MCBROOM The opening night of the first play he designed was cancelled because of the shooting of a president. (It was not McKinley). His subsequent opening nights were more successful, and included operas and plays in St. Louis, Pittsburgh, Atlanta, Cape Cod,Chicago, Kansas City, Milwaukee, Albany, Denver, Palm Beach and New York. Stars who have graced his designs include Debbie Reynolds, Shelley Winters and Jean Stapleton. He has also designed commercials, training films and meetings for corporations such as General Foods, Dupont, and AT&T. His many design experiences with Mr. Norman's Woodstock Fringe were always a high light of his Catskill summers. He holds an MFA from Carnegie-Mellon University.
---
Pyrotechnics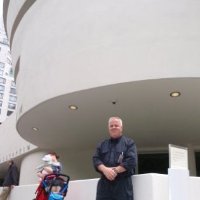 MICHAEL LAVIN
Director of Theater, Solomon R. Guggenheim Museum
Produced, managed and documented events throughout the museum. Performance art, concerts, lectures, symposia, conferences, Special Events rentals, press previews and receptions. Multiple venues: 300 and 90 seat theaters, conference rooms, rotunda, and galleries. All aspects of production management including budgets, equipment and staff.
Microsoft and Apple software, social networking platforms, web-based streaming, Cisco and Ubiqiti WISP networks, ETC lighting console, in-house and externally-hosted IP and ISDN video conferencing, CAD utilization.
Notable performances and presentations Marina Abromivich, Apple announces iBook, The Dali Lama, Pfizer, Bloomberg, Samsung, Nokia, Toyota, BMW, News Corp, YouTube Play,
http://www.youtube.com/user/playbiennial
, Laurie Anderson, Liza Minnelli, Tony Bennett, Lou Reed, Patti Smith, Nam June Paik, Wynton Marsalis, Los Lobos, Beirut, Rudolph Giuliani, Michael Bloomberg, Robert Rauschenberg, Vito Acconci, Dennis Hopper, Vladimir Putin, Bill Clinton, The Bolshoi Ballet.
Works & Process Series: Condensed versions of major productions from American Ballet Theater to New York City Opera. Productions include excerpts from Rigoletto, La Boheme, Salammbo, Macbeth; ABT, Twyla Tharp, Merce Cunningham, Freddie Franklin, Charles Wuorinen, Full Robert Wilson commissions, Phillip Glass, Steven Sondheim, John Ashburry, Yo Yo Ma, John Zorn. Developed and realized live streaming of content. (
www.ustream.tv/worksandprocess#events
)
---